At the beautiful autumn of 2016, after months of redesign and redecoration, the showroom of Jinmao has been finally unveiled. If you are coming to visit Jinmao group for the first time, wishing to get a primary impression of the whole picture of our products, then you definitely can't miss the showroom, now just prepare yourself to be amazed.
Stepping into the showroom, your eyes will be caught by the huge LED airscape of Jinmao first, and if you are interested, step a little closer, in the center of the showroom, there is a big screen on the wall, you can watch the video of our company to learn more about us. Now look around, you will find that you are in the sea of ladders, right, the first floor of the showroom is mainly the display of all the ladders.For different materials, there are aluminum ladders, fiberglass ladders and steel ladders. For different uses, there are household and industrial. For different functions, there are step ladders, trestle ladders, folding ladders, extension ladders, combination ladders, multi-purpose ladders, etc. In a way, there are all kinds of ladders. But you don' t have to worry about getting lost here, because all these ladders are displayed systematically based on their standards, they are divided into several sections such as OSHA&ANSI, AS/NZS, EN131, etc. In each section there are comfortable tables and chairs, so you can either sit and enjoy your coffee while appreciating the amazing ladders around you, or you can walk through the ladders, touch them or try them, anything you like, surely you'll get much fun of it.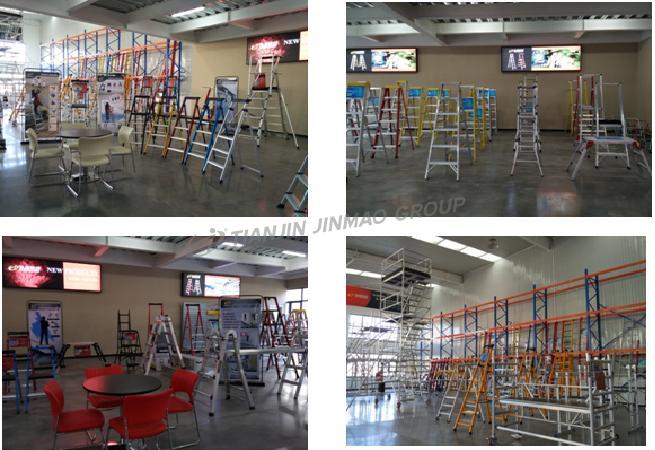 After the tour of the first floor, you can go up to visit the second floor. While you are stepping up on the staircase, you can also learn about how Jinmao constantly move up to higher levels through the pictures on the wall. Walking to the end of the staircase, the glory of Jinmao continus.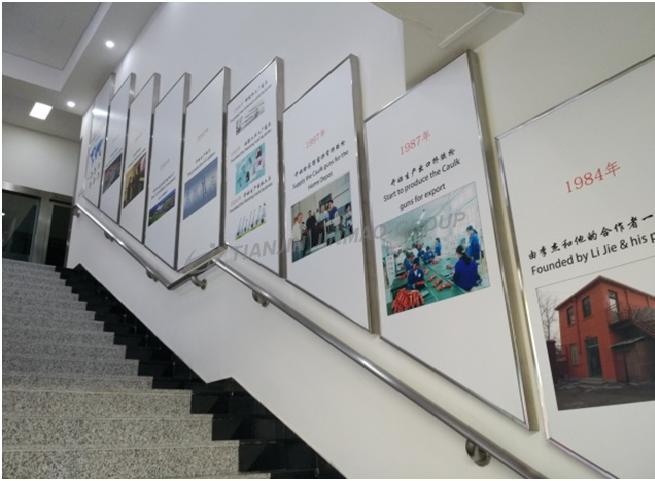 The second floor of the showroom is mainly the display of products other than ladders, such as caulking guns, extension poles, cleaning tools, etc. Also the conference room is in second floor. This room has witnessed so much smile and enthusiasm in the past, and it surely will witness more and more wonderful cooperation and friendship in the future!