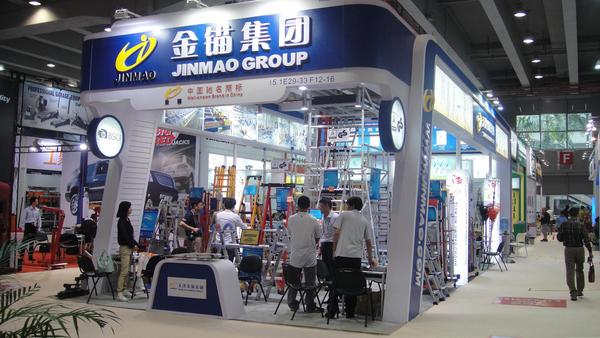 JINMAO ATTENDED 116TH CANTON FAIR
Tianjin Jinmao Group participated the 116th Canton Fair started from Oct 15th ,sent out nearly 20 sales and engineers together with the lastest new products.
We devoted ourselves in new product development, this fair was just a glimpse of the latest progress.
The full fiberglass ladders are the most attractive items, symbolizing JINMAO's present R&D ability, not only in ladder design but also in the fiberglass profile pultrusion.The group invested more than 2 million yuan in this project, after one year's desigh and test, now the products are available for order. This kind of ladder is marvelous in electrical and mining industries because of its' "non-conductive, no sparkling" property, they are made of only fiberglass and reinforced PP, with no metal parts, even no metal rivets.
However, our attention is not only in the professional market, the household items are always our main products.The new household ladder AO118 serie is the most popular item in the fair.It is JINMAO's unique desigh to make a openale tool tray at top, close it to save space when storage and open it to put more tools while in use. The smart engineers also add a grip to help the housewives to carry the ladder around conveniently. These unique designs, plus the red and black striking appearance, attracted hundreds of new customers.
As always, the canton fair is the good chance to meet old customers. Most of our friends from all over the world visited the booth,learnt what's new from JINMAO and discussed the future cooperation.
During the fair, we noted that innovation is always the power to make the enterprise keep growing.Tianjin Jinmao Group will do our best to going forward.