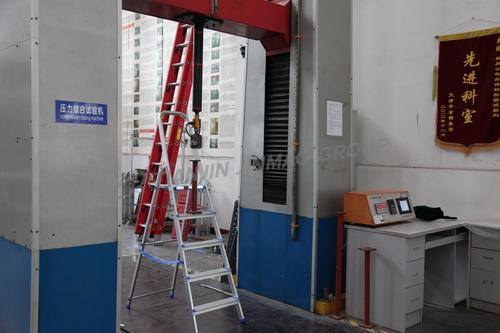 Through the efforts of QC staff , Tianjin Jinmao Group Testing Center has passed the CNAS
re-assessment (China National Accreditation Service for Conformity Assessment) on Oct.14 ,
2014.The center got its CNAS certification in 2011
CNAS certification is the national accreditation body approved by CNCA, it is an officiall member of IAF, ILAC, APLAC, which means the test reports from a CNAS testing center could be accepted by all other members of these associations. Our testing center is now authorized to carry out tests from EN131, EN 14183,EN1001,ANSI,AS/NZS etc.
This testing center is well experienced in ladder mechanical test , it is equipped with ladder integrated pressure testing machine , ladder frame cyclic test machine and various other professional testing equipment , which are worth more than five million yuan. The tests report issued by jinmao test center have been widely accepted by customers from many countries.